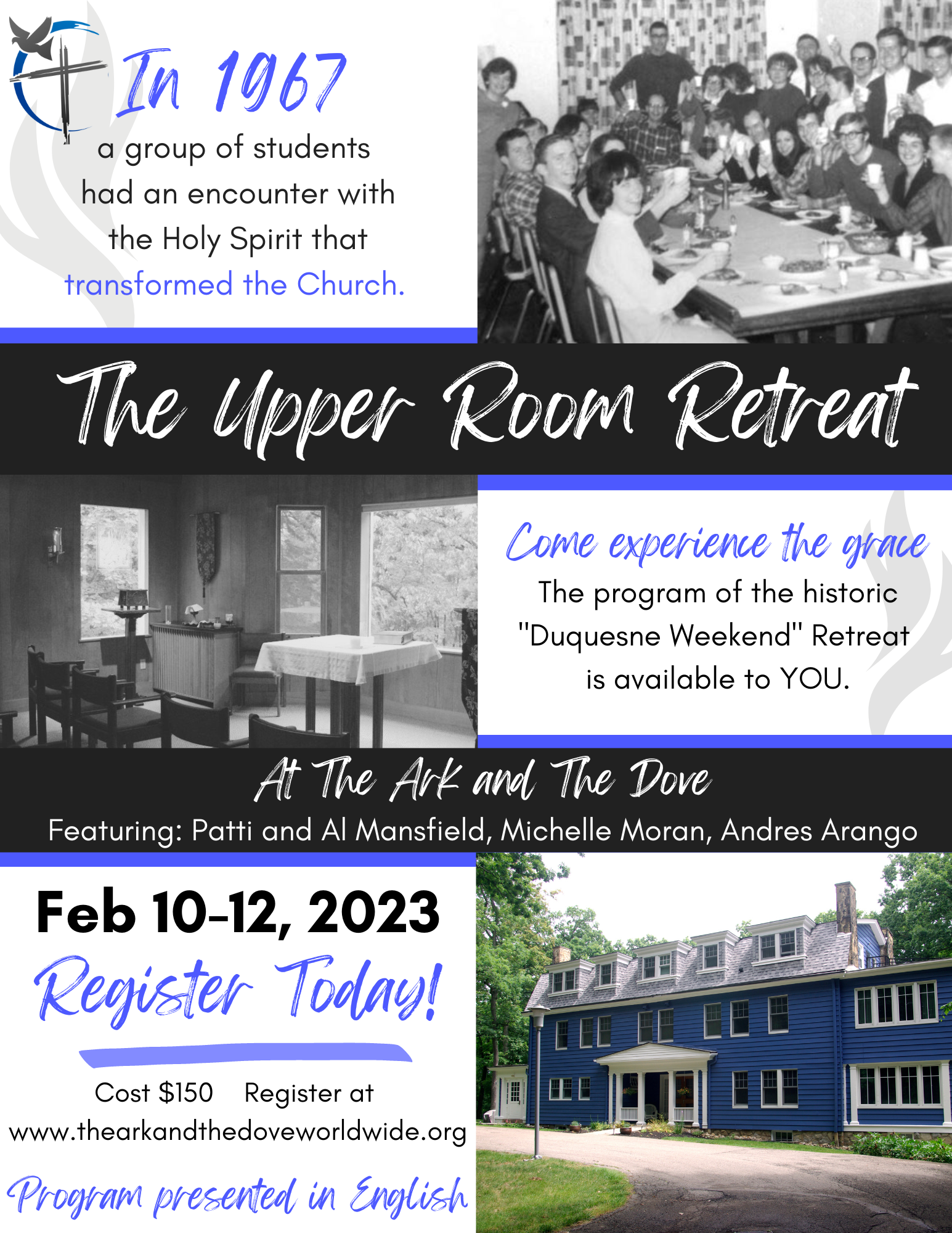 Come to the Upper Room!
Immerse yourself in the grace of the place of the Duquesne weekend.
The Ark and The Dove presents you with the unique opportunity to "re-live" the original format of the 1967 Duquesne Weekend. With talks from Patti and Al Mansfield, Michelle Moran, and Andres Arango, The Upper Room Retreat will include all of the essential elements of the Duquesne Weekend, which fostered a life-transforming encounter with the Holy Spirit.
Retreatants are encouraged to bring a Bible and a journal to use during the retreat weekend.

星期五
5:00pm Check In
6:00pm Dinner 
7:00pm Opening Session
Saturday
8:15am Breakfast
9:15am Morning Session
11:30am Mass
12:30pm Lunch
2:15pm Aternoon Session
5:30pm Dinner
7:00pm Prayer Meeting
Sunday
8:15am Breakfast
9:15am Morning Session
11:30am Mass
12:30pm Lunch
1:30pm Departure
Please note that this schedule is tentative and is subject to modifcations. 
All times are listed in Eastern Standard Time Zone
Additional Opportunities!
Optional Arrival Day
You are welcome to arrive on Thursday, February 9th, 2023, if this would better accommodate your travels.
Optional Pilgrimage from February 13-15, 2023
Participants in the Upper Room Retreat are invited to participate in the optional pilgrimage dates from February 13-15, 2023. Pilgrimage visits will include Duquesne University, Franciscan University of Steubenville, and other holy sites in the greater Pittsburgh area. Further details will be announced prior to the Upper Room Retreat.
Note: There will be no cost for these pilgrimage dates, but The Ark and The Dove will welcome donations in order to offset the associated costs.

Who may attend the retreat?
This retreat is "by invitation only." Upper Room Retreat is for anyone who would like to enter more deeply into the experience of the origins of the Catholic Charismatic Renewal Movement.
Is there any commuter or virtual option?
This retreat is designed to be an overnight, group experience; and therefore, we are not able to offer this retreat in a virtual or commuter format. 
Is there any financial aid/scholarships available?
This retreat is "by donation." The requested donation is $150.00 USD, but we invite you to choose your donation amount for the retreat. 
I am flying in to Pittsburgh for the retreat. What is the closest airport?
The closest airport is PIT (Pittsburgh, PA).
On the registration form, you will submit your arrival/departure information. 
The Ark and The Dove will provide transportation to/from the Pittsburgh Airport. 
In the event of travel delays during your trip, please contact the Ark and Dove office at (724) 444-8055.