The Holy Sacrifice of the Mass is offered Monthly
in the Upper Room Chapel,
Home of Baptism in the Holy Spirit. 
We invite you to enroll yourself and your loved ones in our Monthly Mass Enrollment, to be included in the intentions of this monthly Mass.
As part of your Enrollment, you will have the option to receive a printed Mass Enrollment Card, acknowledging your enrollment in the monthly Masses. This can be mailed to you directly, or to the loved one whom you have enrolled.
With questions or for more information,
please contact us!
info@thearkandthedoveworldwide.org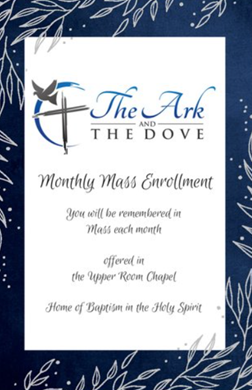 A Monthly Mass Enrollment is a perfect gift in remembrance of:
Birthdays
Baptism
Confirmation
Anniversary
Ordination
Profession of Vows
Christmas
and other special occasions